Having a bad day or you want to celebrate, both the occasions can perfectly go right with a delicious cake. Yeah, that's true. There's nothing better than a moist and fluffy cake. One cannot miss these amazing treats that bring joy to your life. But do you know how is that moistness and fluffiness provided for your cake? Bakers will instantly give this answer but those who don't know, an egg is a correct answer.
But, what about vegans? Don't worry, eggs can be easily replaced with other ingredients like applesauce, mashed banana etc. Vegans can also enjoy these treats without adding eggs and also maintaining the same exotic taste in their lives. Have a look at these wonderful eggless baking recipes.
Eggless Vanilla Cakes
There are many people out there who do not prefer eggs in their baking recipes. So, here's a fantastic eggless vanilla cake recipe for you all. The recipe is very easy-to-follow and requires readily available ingredients. You cannot go wrong with this amazing recipe on any occasion.
Ingredients you'll Require
2 ½ cups all-purpose flour
1 teaspoon baking soda
2 teaspoons baking powder
¼ teaspoon salt
1 can sweeten condensed milk
2 tablespoons sugar
1 cup water
2 tablespoons vinegar
½ cup melted butter
2 tablespoons vanilla extract
How to make it
Start with preheating your oven at 180ᵒ C for around 15 minutes. Now, take a 9×13" pan, grease it and line it with a parchment paper.
Take flour, baking soda, baking powder, and salt and sift all the ingredients together in a large bowl. Then mix in the sugar.
In the center of your dry ingredients, make some space and pour down the wet ingredients one by one. Use a whisk and start stirring the mixture together. Some lumps are fine.
Then you need to pour down the batter in the prepared pan and gently tap the pan to spread the batter evenly and to break any air bubbles.
Bake your cake for about 25-35 minutes. Check the cake after 30 minutes, there are chances that your cake is done or just 2-3 minutes left for the doneness. It prevents your cake from over-baking.
Take out the pan and keep it on the cooling rack and remove your cake after 15-20 minutes. Keep the cake on the rack to let it cool down properly before slicing it.
Oatmeal Coconut Cookies Recipe
This amazing recipe needs no eggs and is easy to make that even beginners can try it out without any difficulty. The perfect texture, crunchy edges and chewy in the middle is something to go for as your evening snack.
Ingredients you'll Require
1 cup all-purpose flour
1/8 teaspoon salt
½ teaspoon baking soda
1 cup quick cooking oats
1 cup shredded coconut
¾ cup granulated sugar
½ cup butter
2 tablespoons honey
How to make it
Again start with preheating your pan at 350ᵒ F for 15 minutes. Take two cookie sheets and butter them. If you are using dark coated sheets, use a parchment paper to line it and then grease it with cooking spray.
Take the flour, salt, and baking soda and sift them together in a large bowl. Add coconuts and oats and stir.
Take a small saucepan because now you need to melt the butter along with sugar and honey over medium heat. When you remove it from the stove, let it first cool for 2 minutes.
Pour down the same mixture to your dry ingredients and mix it properly using a spatula.
Roll the mixture same as the size of walnuts and keep them 1" apart on the baking sheet and use a fork to slightly flatten it.
Bake the cookies for about 15-20 minutes or until golden brown. In case, you are using 2 cookie sheets, make sure you shift the rack halfway to ensure even browning.
Let them rest on the sheets for a while until they are solid slightly. Now, use a spatula to lift the cookies and keep them on the cooling rack to cool fully.
Chocolate Zucchini Bread Recipe
Try out this wonderful recipe, which is very moist and also healthy to grab it anytime.
Ingredients you'll Require
1 ½ cup shredded zucchini
½ cup unsweetened cocoa powder
1 teaspoon baking soda
½ teaspoon baking powder
1 cup whole wheat pastry flour
¼ teaspoon ground allspice
¼ teaspoon salt
¼ cup oil
¼ cup unsweetened applesauce
½ cup brown sugar
½ cup granulated sugar
6-8 tablespoons buttermilk
¼ cup semisweet, mini chocolate chips
1 teaspoon vanilla extract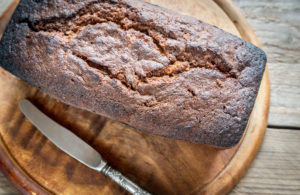 How to make it
You need to pre-heat the oven at 350ᵒ F for about 15 minutes. Take an 8×4" loaf pan, grease it and lined with the help of parchment paper.
Now you have to grate the zucchini and keep it aside. Take a large mixing bowl and add flour, leaveners, cocoa powder, spice, and salt and combine them together.
Take a separate medium-sized bowl and add oil, applesauce, buttermilk, vanilla extract and both the sugars into it, beat all the ingredients together.
Take your grate zucchini and add with your wet ingredients.
Now add the flour mixture and start beating until it is combined. Add chocolate chips and start stirring.
Pour down the batter into the prepared pan and bake it for about 55-65 minutes. After 55 minutes, take a minute a check for its doneness.
Take out the pan and keep it on the wire rack. After 10 minutes you can remove the bread and let it cool completely before slicing. Well, it would be better if you let your bread cool overnight.
---
---
---